OFFICE SPACE IN THE REDING TOWER
THE PLACE FOR YOUR BUSINESS
REDING TOWER 2 offers high standard A office space for rent in an attractive Bratislava location overlooking the vineyards of the Little Carpathians.
The project is located in the Rača district only 8 minutes from the city center.
REDING TOWER 2 offers several interesting benefits. In addition to first-class premises and services, it also brings added value in the form of high-quality construction, award-winning architecture and a pleasant environment.
We continually strive to improve and expand our services. Apart from dining options in the building, we provide our tenants and their staff with bicycle stands, showers, a shared meeting room and many other benefits.
of problem free operation
The Reding Tower 2 meets the strictest technical parameters used in the construction of office buildings in Slovakia, whether it is a connection to public transport, modern air exchange in premises, including natural ventilation.
It includes equipment designed to maximize energy savings and reduce operating costs. The complex complements the administrative center, where successful private companies and state institutions have found their place.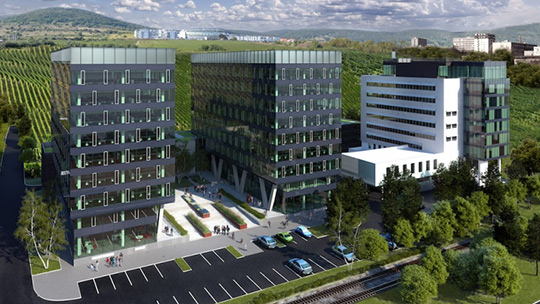 Skúsenosti našich nájomcov
Budova na Jarošovej priniesla Denníku N šťastie – do priestorov sme sa nasťahovali v čase, keď sme Nko zakladali, zdedili sme nábytok a nástennú výzdobu po predchádzajúcom nájomcovi a pred sebou sme mali veľmi nejasnú budúcnosť. Za sedem rokov sa nám podarilo v týchto priestoroch vybudovať úspešné médium, zabrať dvojnásobnú plochu, prestavať si priestor podľa vlastných predstáv, a aj vďaka ústretovému prístupu domácich sa tu cítime ako doma.
Denník N
Za najväčšie plus Office Centra Jarošova považujeme jeho polohu a dostupnosť z rôznych mestských častí Bratislavy, jednoduchého napojenia do centra a bezproblémové parkovanie. Vážime si tiež podporu a ústretovosť managementu, flexibilitu v rekonštrukcii priestorov podľa vlastných preferencií.
EFMA
Najviac oceňujeme výbornú lokalitu a ústretovosť vedenia budovy. Takisto flexibilitu, ktorá nám bola umožnená pri zariaďovaní priestorov. Ceníme si takisto otvorenosť inováciám, ale aj neustále zlepšovanie služieb v budove. Parkovanie je bezproblémové aj pre bicykle či elektro autá, no a tešíme sa na terasu, ktorá o chvíľu pribudne.
Pharmonia
Sme si plne vedomí, aké náročné je spolupracovať s firmami, ktoré potrebujú 24 hodinový prístup do svojich priestorov a rovnako aj priestorov budovy. OC Jarošova však dokáže splniť požiadavky aj naozaj náročných klientov. Nie len aktívny a priateľský prístup vedenia budovy a jej zamestnancov, ale aj možnosť parkovacích státí na bicykle, dostatok parkovacích miest, ale aj čisté a zmodernizované priestory a v neposlednom rade neuveriteľný večerný výhľad robia z OC Jarošova miesto kde naša firma pôsobí už niekoľko rokov.
Anect
S výberom prenájmu priestorov v Jarošova Office Centre sme nadmieru spokojní a takisto naši klienti, keďže parkovanie je bezproblémové a takisto lokalita, v ktorej sa budova nachádza. Vedenie budovy sídli priamo tu, takže v prípade potreby sú k dispozícií.
EHS
Moderné kancelárske priestory v dobrej lokalite s výborným parkovaním za dostupnú cenu s nízkymi prevádzkovými nákladmi. Vedenie sídli priamo v budove a je ústretové a flexibilné pri výbere a úprave priestorov. Priestory robia výborný dojem na našich klientov. Sme radi, že sme sa rozhodli práve pre Jarošova Office Centre.
Infinity standart
Kancelárske priestory v širšom centre Bratislavy odkiaľ sa jednoduchým spôsobom vieme dopraviť na obchodné stretnutia alebo v prípade stretnutí priamo v spoločnosti bezproblémovo poskytnúť parkovacie miesto obchodnému partnerovi, to je Jarošova Office Centre. Inovatívny prístup vedenia budovy, ktorý sa neustále snaží prichádzať s rôznymi novinkami a zvyšovať tak komfort pre svojich nájomcov je potvrdením dobrého výberu.
Evrofin